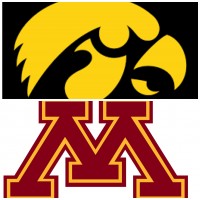 Here's your preview for the battle in The Barn tonight with the two voices behind the mic for each side.
Mike and Mitch talk Gophers win over Illinois, preview Iowa, and Mike tells stories of longtime voice of the Gophers Ray Christensen who passed away over the weekend.
Voice of the Hawkeyes Gary Dolphin hopped on to preview the Iowa side for tonight's contest. Gary and Mitch discuss the youth movement this year, Iowa's recent success and Peter Jok getting back on the court.