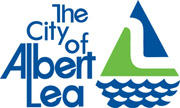 ALBERT LEA, MN – The Albert Lea City Council convenes tonight at 7PM in the city council chambers. The meeting will be broadcast on KATE – 1450AM. Here's a preview for tonight's meeting.
In petitions, requests, and communications there's a Resolution Declaring American Legion Youth Baseball Fundraiser As Community Festival
In new business there will be a public hearing and resolution approving purchase of real estate from CSSJB&K Building Partnership by the City Of Albert Lea – 314 South Broadway, and a resolution approving the assignment of the franchise agreement between the City Of Albert Lea and Interstate Power And Light Company to Southern Minnesota Electric Cooperative.