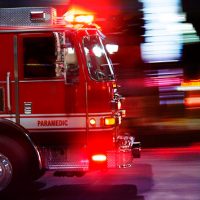 One person remains hospitalized in stable condition after an early Thursday morning house fire.
Albert Lea Fire Rescue was called for a fire in a home at 502 E 5th St in the early morning hours of Thursday October 26th, 2017.  The Albert Lea Police Department, Freeborn County Sheriff's Office, and Gold Cross Ambulance assisted Albert Lea Fire Rescue at the scene.  Two residents were home at the time of the fire. Dave Desart was able to rescue himself while Dean Desart was removed from the structure by Albert Lea Police Department.  Both were transported to the Emergency Room in Albert Lea.  Dave Desart was treated and released, Dean was taken to Hennepin County Medical Center for treatment.

Upon arrival, firefighters and law enforcement found smoke coming from the home.  Access was gained through the front by Albert Lea Police and from the rear of the home by the fire fighters.  The fire was located in the kitchen area and was quickly extinguished.  Fire crews were on scene for approximately two hours extinguishing hot spots.  The damage to the home is estimated to be $20,000.  The fire is determined to be a cooking fire on the stove. The fire was investigated by Albert Lea Fire Rescue with assistance from the Minnesota State Fire Marshal's Office.
The home is owned by both men's parents Donald and Mary Desart.