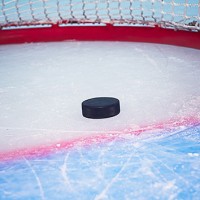 Tuesday night, Albert Lea boys' hockey finally made the trip to Rochester Recreation Center for its Section 1A Semifinal against Minnesota River, a game which had already been rescheduled twice as a result of poor weather. The Tigers started slow out of the gates and ended up taking a 6-2 loss which ended the season.
The first period made fans think they were watching the start of a shootout. After a quiet start in which both teams struggled to get good looks at the net, the Tigers and Bulldogs exploded for four goals in less than a three-minute span. After River's Charlie Weick started the scoring, the Tigers' Marcus Dempewolf and Owen Zelenak and the Bulldogs' Tyson Sowder and Hunter Wilmes all tallied scores of their own to bring a 3-2 Minnesota River lead into the first intermission.
"You hate to fall behind at that early stage in the game like we did, and then we did battle back and it seemed like every time we did they'd score one back on us," Coach Jason Fornwald said after the game. "I can't say that those are goals that we would typically give up this year. To be honest with you, it was a very atypical game for us."
Those two goals Albert Lea scored in the first period would be the only times the Tigers scored all night. Minnesota River kept the pressure on in the second period with a pair of goals from Jade Reicks and Logan Throldahl. In the third, Hunter Wilmes added his second goal of the night to put a cherry on top of a dominant victory.
"I just think there was a little struggle with flow off the get-go," Fornwald said. "I don't know — we just didn't seem to have our normal jump off the start. It's hard to answer that question, as to why that might be."
The Tigers end their season in the section semifinals for the second straight season, following a 3-2 overtime loss to Rochester Lourdes last season. Lourdes defeated Mankato East, 6-4 in the first game of the night. It will face Minnesota River in the Section 1A Championship game Thursday night at 7 p.m.
After the game, Coach Fornwald gave praise to his senior class, which played its final game with Albert Lea Thursday night:
"It's a great group," Fornwald said. "I wanted more for them. They wanted more from themselves. Our whole coaching staff was hoping we could continue on with our season a little further than tonight. I'm going to miss those boys. It was a great senior group, every single one of them, especially my captain Cole Wentzel. A kind of kid like that isn't easily replaced. He's going to be missed."