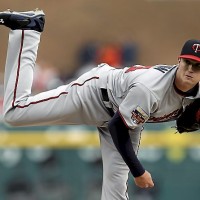 The Minnesota Twins picked up a season sweep against the Baltimore Orioles Sunday, 4-1 at Target Field. Minnesota continued it's beyond impressive run of hitting home runs off the Orioles, and Kyle Gibson turned in his best outing of his season in the victory.
Minnesota has hit home runs against Baltimore at an uncanny rate this year, with 21 long balls for the Twins in the first five games between the two teams. Max Kepler took no time to keep that hot streak going, hitting the first pitch the Twins saw in the bottom of the first deep off Dylan Bundy for an early 1-0 lead. Byron Buxton followed suit with the first pitch Bundy threw in the third inning — his first home run of the year.
While the two homers hurt for the Orioles' Bundy, the worst of his day came later in the third inning. With two out and a runner on second, he walked two batters in a row to load the bases. Then, Marwin Gonzalez hit a bloop single to shallow center between three Baltimore defenders which scored a pair. If the ball had flown five feet longer, shorter or to either side, it would have been caught. Instead, the Twins took a 4-0 lead.
Minnesota didn't get any more production from it's offense the rest of the game, but it wouldn't need it. After a shaky first inning where Kyle Gibson gave up a leadoff double and a line drive which ended up right at Max Kepler in right field, the Twins' starter fell into a groove. Groundouts and weak contact were consistent throughout the final six innings of Gibson's outing; he sent down nine Orioles in a row from the third to the fifth. The only exception was a Chris Davis home run in the seventh, the second to last batter Gibson faced.
Side note: Chris Davis providing the Orioles' only offense of the game is the purest form of irony.
Gibson finished his seven innings with the one run allowed to Davis, three hits, six strikeouts and no walks. It was easily his best outing of the season, and a welcome addition to Minnesota's solid start from the rotation.
The Twins' Trevor Hildenberger and Blake Parker each threw scoreless innings in the eighth and ninth, with the only danger coming off a two-out double from Stevie Wilkerson in the eighth. Minnesota improved to 16-9 on the season, while Baltimore dropped to 10-19. Kyle Gibson got the win and improved to 2-0, and Dylan Bundy fell to 0-4. Gibson dropped his season ERA by more than a full point, from 6.10 to 4.88.
Minnesota stays put at home to host a four-game series with the Astros starting Monday. The Twins are expected to start Jake Odorizzi against Houston's Justin Verlander.
Posted: Nate Dickinson